FGID-99 DESKTOP HIGH-THROUGHPUT SEQUENCER
Efficient and flexible APPLICATION
DNA library construction
STR detection
SNP detection
Mitochondrial detection
Genealogy analysis
FGID-99 FGID-99 is a new generation of all-round high-throughput sequencing platform specially developed for the field of forensic science. It focuses on various forensic practical application scenarios in terms of throughput, data output, and adaptive application development.
Compared with other high-throughput sequencers of the same type, it is more suitable for DNA testing laboratories of various provincial departments and municipal bureaus.
FGID-99 DESKTOP HIGH-THROUGHPUT SEQUENCER
The testable samples are moderate. Supporting BGI STR test kits. Running a single chip can do about 80 samples (1920 samples on the MGISEQ2000RS platform is too large), especially suitable for laboratories with a small number of cases
Flexible throughput Can run 1 or 2 chips and be flexibly selected according to the number of inspection materials
STR detection Meets the most commonly used detection applications in the forensic field
Faster
The sequencing time is faster than the high-throughput MGISEQ-2000RS platforms
Wide range of applications DNA library building
STR detection, SNP detection
mitochondrial detection, genea logy analysis
FEATURES OF FGID-99
WORKFLOW AND ADVANTAGES OF FGID-99
Time required
Three computer modes to choose from
One machine integrated sequencing and analysis Making sequencing easier and faster!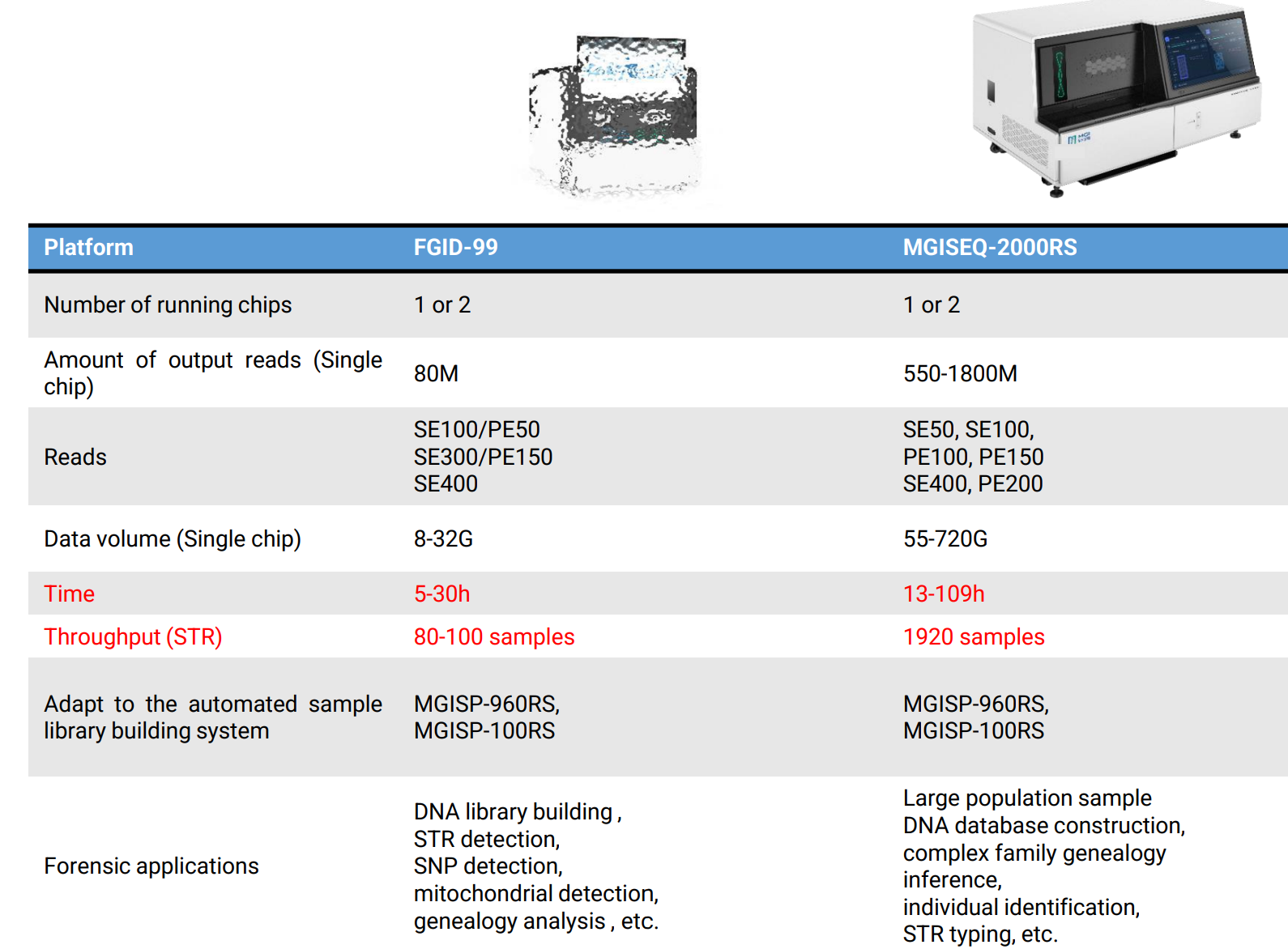 2 3 4 5 Library preparation (manual/automatic) Manual: 0.5h DNB preparation Manual: 0.25h Sequencing + application analysis + user report Manual < 5min MGISP-100 MGISP-100 FGID-99
PRODUCT PARAMETERS
Maximum number of slides in a single run
Lane Maximum number of reads*/slide Support reads
The amount of data Q30** Sequencing time 2 1 80M SE100/PE50 8~16G >90% SE100 ~5h SE300(coming soon)/PE150 24~48G >85% PE150 ~12h SE400 (coming soon) 32~64G
The maximum number of valid reads is obtained by running a specific standard library, and the actual application library will fluctuate depending on the sample type and library construction method.
The percentage of bases above Q30 and the running time are averaged over the entire run for a specific standard library, and the actual application performance is affected by sample type, library quality, insert length.
Platform FGID-99 MGISEQ-2000RS
Number of running chips 1 or 2
1 or 2 Amount of output reads (Single chip)
80M 550-1800M Reads SE100/PE50 SE300/PE150 SE400 SE50, SE100, PE100, PE150 SE400, PE200
Data volume (Single chip) 8-32G 55-720G
Time 5-30h 13-109h
Throughput (STR) 80-100 samples 1920 samples Adapt to the automated sample library building system
MGISP-960RS, MGISP-100RS MGISP-960RS, MGISP-100RS Forensic applications DNA library building
STR detection, SNP detection, mitochondrial detection, genealogy analysis
Large population sample DNA database construction, complex family genealogy inference, individual identification, STR typing
High-Throughput Sequencing Labs using the FGID-99
The IFSH High-Throughput Sequencing Lab uses GEN's FGID-99 sequencer for food industry analysis.
The high-throughput or next-generation sequencing (HTS/NGS) and HTS technology is suited for the regulatory, forensic STR and health monitoring.
Recent Posts
FGID-99 sequencerFGID-99 DESKTOP HIGH-THROUGHPUT SEQUENCEREfficient and flexible APPLICATION …

GEN manufactures mRNA (message RNA) worldwide. The complete mRNAs that have completed the cappi …